As a small business owner, you might be looking to design your website yourself. Or, if you're having a designer creating the site for you, you may still be writing the copy for it yourself. If that's the case, where do you look for inspiration? Other people's websites? It can be a good place to start, but you need to be aware of a massive pitfall that many businesses fall into when creating their website.
Businesses talk about themselves
Well, isn't that obvious? If you are designing a website that will be about your business, surely you need to talk about your business?
Partly, yes, you do need to make it clear what your business does and assure people that you are great at doing it. However, what's most important, and what many websites miss, is showing the potential customer who has landed on your site HOW you can help solve their specific needs and WHY you should be who they choose to help them do that.
People visiting websites are interested in themselves, not you
To explain this further, let's take a step back and think about how your potential customer arrived at their website. They might have done a search in Google, or might have been told about your company by a friend. Someone could have recommended your business in response to a Facebook post, or they might have seen one of your ads. In all of these scenarios, that person already has an idea of what you do. Now they're looking to see if you are the right fit for them.
The most important part of any website is the area above the "fold" – the fold being the point on the page where someone needs to scroll down to see more of the page content. On viewing this part of your website when they first get to it, people make a very fast decision (we're talking seconds here) about whether they are going to carry on reading.
Now thinking about that area of the page, it is not very big. On a mobile it is tiny. So what is the biggest mistake businesses make? You've got it – they talk about themselves.
People don't care about your business, yet
Remember, as we mentioned above, people have already got an idea about what you do before they get to your website. You don't need to tell them again immediately. So many businesses waste the precious space above the fold talking about what products or services they provide, or when the business was established, or attempting to sound cool and clever with a snappy slogan. Don't get me wrong, slogans can be very effective, but they are meaningless if the person reading it doesn't understand yet how and why you can help them.
All of this information is great to provide on the website, but not in the prime "above the fold" location. It should only be provided a lot later in the user's journey through your website when they are already interested in using you to solve their problem.
Make it clear you can solve their problem FIRST
That leads us nicely on to what you should be telling people when they first land on your website. When they get to you, they will be thinking about their problem or need, and will be looking to see if you can solve it. How can you show them this? A great method to use is to have what's known as a "Hero Header". This is a special header that tends to be used only on home pages or landing pages. It is designed to very quickly show someone that they have come to the right place and will encourage them to keep reading more about your products or services.
How to create an effective Hero Header
That's great, I hear you thinking, but how can you create a Hero Header that will make potential customers become buyers? We are going to give you some key ingredients to create a stand out hero header.
1. Decide on your main call to action
A very important first step is to decide on the call to action you want your website visitor to make. This should be continued throughout your website, but in the hero header people should see it twice. The most effective way to show a call to action is to have a short instruction, for example "Call Today", "Buy Now", "Book An Appointment", and show this as a brightly coloured button that contrasts strongly with the background. You'll often see the colour green used for these buttons as green is subconsciously associated with "Go".
The best places to position call to action buttons above the fold is on the top right of the page (often at the far right of the header / navigation menu so it appears on all pages), and in the centre of your hero header. This is because on a wide screen people will read the page left to right like a book. When they get to the right they look down and to the left to start the next "line". This results in them scanning the page in a zig zag. The top right and middle positioning of the call to action buttons means they are more likely to see them both as they look across the screen.
2. Choose a stand out statement
The second ingredient is a stand out statement. The effect of a great stand out statement is to immediately help your potential customer to imagine themselves in a scenario that you've created. That scenario is the start of a story and user journey that you are aiming to take them through as they progress through your website, and one that ultimate leads them to take an action. That action could be to buy your product or call you to find out more about your service.
The stand out statement should be a short sentence, or it could be a question to get people thinking about their answer.
3. Provide a short explanation
A stand out statement can be enough on its own, but sometimes it's good to also give a short explanatory statement of how and why your business can help. Again this should be 1-2 sentences max, or you could highlight 3 key benefits that your business provides that relate to the stand out statement. You can show these as bullet points to keep them concise.
4. Use an image or video background
We've all heard the phrase "a picture says a 1000 words". In this scenario, that couldn't be more true. Find an image or video of your product being used or your service being provided. If it is a service where you are supporting people such as coaching, the image can be of people looking happy, thankful or relieved that they've used your services (you're aiming to show the positive end-result rather than the cause of people coming to you as that will be far more encouraging).
Some great examples of effective Hero Headers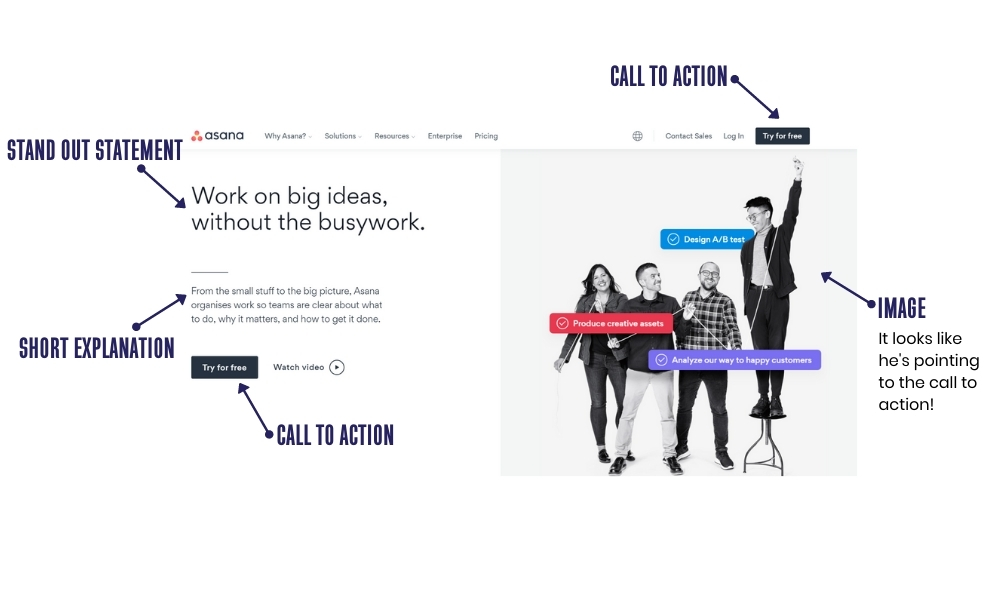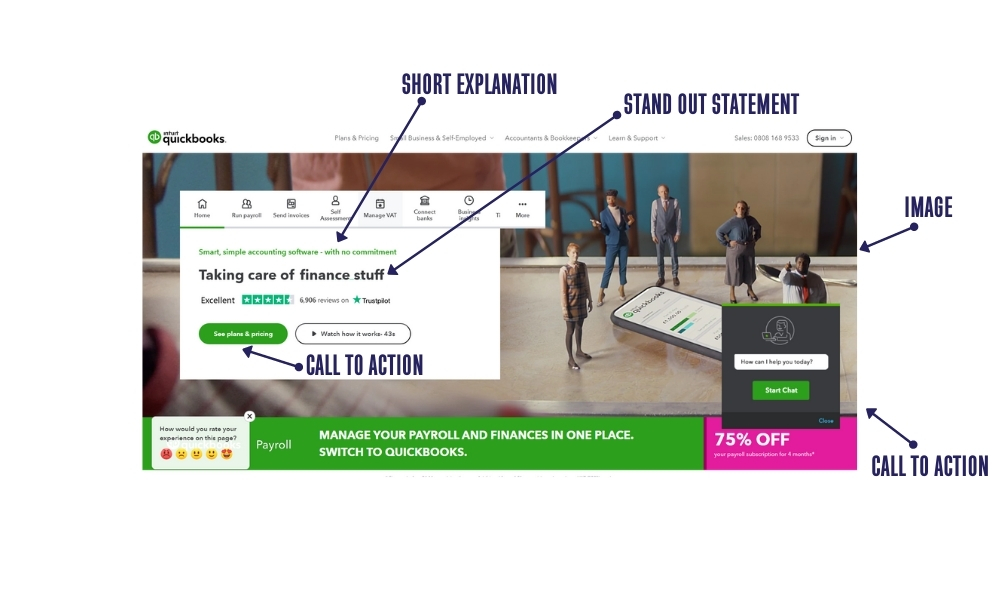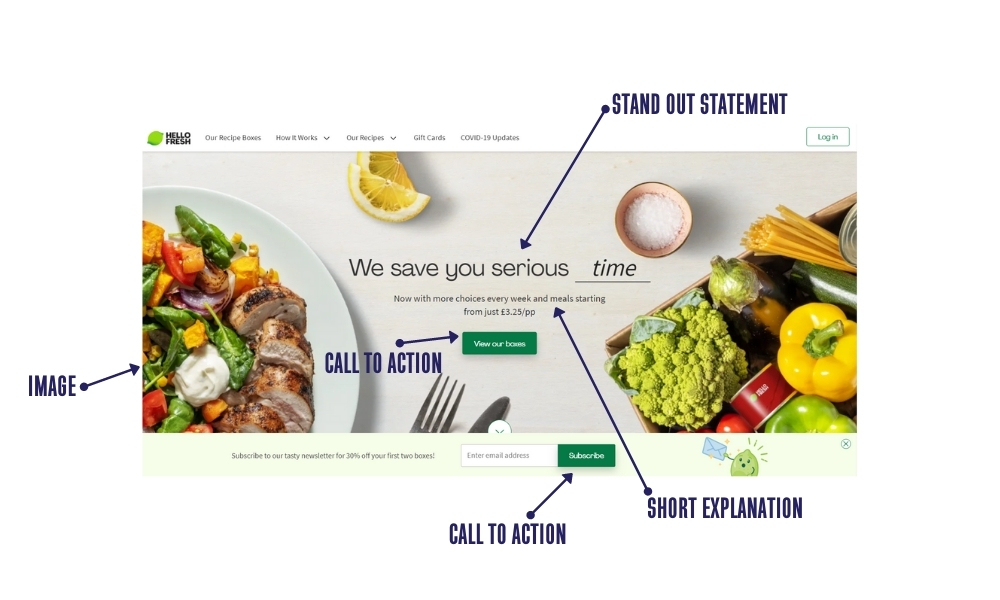 Hopefully this gives you some ideas for how to make the most of your website, which when done right, can be one of your most valuable marketing tools.
If you have any questions about designing your website, or would like Your Site Matters to carry out a free review of one you have already, contact heretohelp@yoursitematters.co.uk or call 01926 757575.