As I write, I am imagining the scenario you might be in – you realised you need a new website, approached Amy like any sensible person would and now here you are, a couple of months down the line and you have a beautiful and responsive website that is all yours…. NOW WHAT?
Now you blog…
This is where you get to start using your website as the creative, flexible and adaptive marketing resource it is – and where utilizing SEO techniques can really help.
Your website is yours. This means you get to talk to your customers – past, present, and future – in a way that suits them best. For most websites, this means via blog, but you can use your posts feature to share whatever content matters to your audience. Some people prefer to share news updates, but there's nothing to say you couldn't use the space for video transcripts if they are what matter, or it could be a traditional blog where you update and share your thoughts and feelings on a regular basis – this space is whatever works for you in your market space.
The great thing about utilizing the blog part of your website is that you can share fresh and exciting updates that are topical and don't need to be represented in the core content. However, it is also the part of your website you are responsible for – and this is where you can utilize some SEO best practices to support your content marketing efforts.
How can I optimize my blog?
There are lots of things you can do and some of them are standard practices that you just need to remember:
Do some keyword research, check out what the search volumes are for your chosen phrase and if demand is there. Also look at how difficult a search term is to rank for – keyword research tools will grade keywords for you and also show you which websites perform well for them.

When you type your blog title, some content management systems like WordPress help by automatically updating the posts URL – make sure you edit this, so it is more succinct and still makes sense:
Good example: https://www.semhelp.co.uk/seo-services/
Bad example: https://www.semhelp.co.uk/seo-services-that-are-really-helpful-for-small-owner-managed&%-unnecessary%spaces-%here-5678%business-2562743
Adding your chosen keyword to your URL – If it makes sense to do so – can also show searchers how relevant your post is to their query.
Use Headers in your post to break up the content and identify subject matter but use them in order of priority not just because one looks better than another. H1 or Header 1 goes first, followed by Header 2… all the way to Header 6. Include your keywords if it makes sense to do so but don't fixate on that, writing naturally is more important.

Write for people, not for search engines – avoid using jargon or industry standard abbreviations if they are not used in day to day speaking terms. Your content needs to meet a need but also be easy to read – break it up into manageable chunks, add a list and use plain English wherever possible.

Include images, but make sure they have been resized already – you don't want to be uploading a 6000 pixel wide 3.5MB image in a space where 500 pixels and 86KB will do. I also recommend people name their file as something relevant and always add image alt text to describe what's in the image. This is not just from an SEO perspective but an accessibility one too – not everyone will access your website the same way and alternative text is exactly that, text that is an alternative to the image; assistive technologies rely on these.

Get into a good habit of linking to other pieces of your own content and back to this piece too. By keeping these links relevant you are then indicating this relevancy to search engines and you also get the opportunity to keep people on your website for longer as they check out other pieces of content.

Remember to add a Meta Description and again, use your chosen keyword(s) if it makes sense to do so. Technically, you don't HAVE to add this but seeing as this is the little page description that shows up on search engine results pages, it makes sense to decide what is displayed.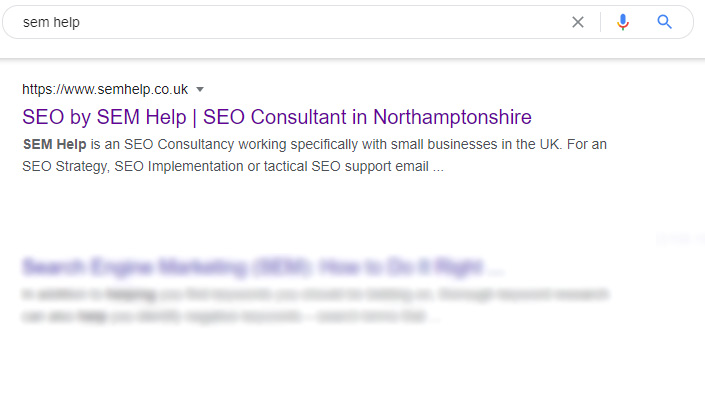 Is that all I need to know about SEO?
To be brutally honest, no it isn't, but each of these tasks are important to optimizing your blog posts before you hit that publish button. There are over 200 ranking factors when it comes to websites and we don't know them all; there is no definitive list so one simple thing we can all manage for ourselves is to optimize the things we know do work.
Keyword research is still the backbone of good SEO. It will help you identify the key words, phrases and topics that your audience are using and give some insight into their intention, but it still relies on your providing strong, relevant and authoritative content.
SEO is an important part of your overall marketing strategy and should be used to help you meet your business's goals and objectives. Once you understand your audience, you will be able to write the content that matters to them.